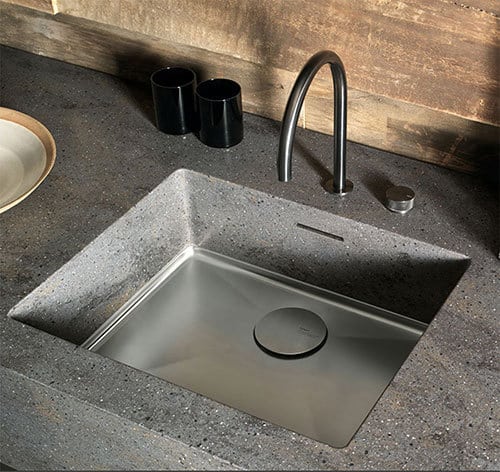 Ok. So… you have probably heard us going on and on about how great Corian is, and you're probably over here thinking…. "Why? It's just a bench top!"
Well, Corian isn't just a bench top, and that is why we love it so much! 
This incredible material can be thermo formed, meaning it can be bent into pretty much any shape you want or need it to be! 
Want a basin? No worries! 
Need a shower base? We can do that! 
Not only can this non-porous (that means it is virtually impossible to
stain) material be used in commercial spaces, it is perfect for the bathroom, outside use, kitchens, and basically ANYWHERE in the home!
Let us break it down for you so you know exactly how great this
product is.

1- It is non-porous, aka, it is very, VERY difficult to stain!
This makes it perfect for the kitchen when the beetroot gets on the bench…. it will just wipe off! Another great place is the bathroom. For anyone who fake tans at home this product will be you're new best friend. Instead of having tan circles all over your vanity for weeks because you put the lid down the wrong way, it will just wipe off. Voilà!

2- Corian can be moulded to almost any shape or size
Can't find a kitchen sink you like? Why not design your own with Corian products? We can pop some fancy formulas and measurements into the program and our machines will create this amazing personalized work of art for your home or business!

3- It is super easy to clean
Ok. I know we have mentioned it a few times now, but because it is non-porous, it makes this product a joy to clean! No chemicals are needed as no nasty's can soak into the material. Warm water and a clean cloth works wonders and it will save you money and time in the long run!

4- Got a scratch? No worries…. we can fix that!
One of our absolute favourite things about Corian, is that scratches or minor chips can be fixed! Instead of replacing the entire surface, we can buff the imperfections out with a bit of elbow grease and some great technologically advanced products.

Still not sold? Pop into our showroom at 898 Metry Street, North Albury and we can show you this fantastic material in the flesh!